Client and Contact Management
Keeping in touch means profitability!
"Customer Relationship Management" or "CRM" is the one of the new buzz words of today's technology world but in today's world, instant access to contact information is critical to a successful investment practice.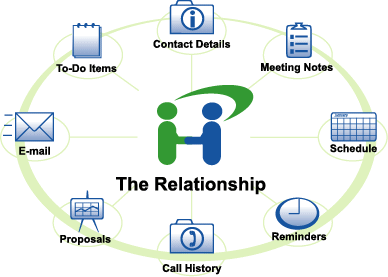 In the 1970's and 1980's, relationships were managed by an address book, file cabinet or the old "one card system." The problem was, you couldn't find the information you were looking for in a timely manner and key contacts often fell through the cracks, literally!
Contact management software allows the user to:
Increase productivity and better utilize your time
Utilize a system to keep intouch with clients, prospects and other important contacts
Quickly find contact information on clients and prospects
Write letters, emails and send faxes easily
Stay focused by automating daily to-dos and schedules
View others calenders and task lists from your workstation
Easily write correspondence such as email, letters and memos
Delegate work to administrative personnel
Become a "paperless office" with your scanner and scanning software
Effective contact management is an absolute necessity for any business in today's highly competitive environment.
Contact management software gives you a method or "track" which can make the difference in your business.
Sage ACT! with Act4Advisors gives the user the ability to keep track of client information such as addresses, phone numbers, children's names, social security numbers and other pertinent client and prospect information. Keeps you organized and in touch with your clients and prospects with scheduling features, to-dos, call backs, account notes, etc..
CRM Software, ACT! CRM Software, Practice Management Solution, FSC Practice Management Solutions, Practice Management Software, CRM for Financial, ACT! for Financial Advisors, client and contact management software, crm software, asset allocation software, portfolio management software, financial planning software, registered reps... Act4Advisors utilizes the most popular contact management system, ACT! by Interact Commerce Corporation. ACT! has excellent features and is one of the easiest to use contact management systems on the market. Act4Advisors simply customizes ACT! for a financial services practice. Enter Here > Scan and Organize for ACT! - you can Scan, Attach, and Manage Documents from within the ACT! interface! Enter Here > eGrabber - Capture sales leads and contact data from email, online yellow pages, websites, address lists, web form responses, and many more into your contact manager or address book. Enter Here > IncomeMax - Cygnus Software, Inc. provides sales tools for insurance and financial planning professionals. Our IncomeMax sales software simplifies the sale of insurance and financial products for agents and planners. IncomeMax is a needs analysis and retirement planning sales tool that enables agents and planners to quickly evaluate their clients financial situation, areas of need, and position product solutions. Enter Here > AutoAdmin is the #1 unattended administration software that ACT! administrators, ACCs and ACT! users have counted on for years to ensure their valuable ACT! data is safe and healthy. Enter Here > Laser App is an easy to use, interactive form system for the independent financial advisor. Laser App uses your broker, rep, and client data to assist you in filling out the tedious and redundant fields in securities and annuity forms. Enter Here >